#EPCA56 | From Resilience to Transformation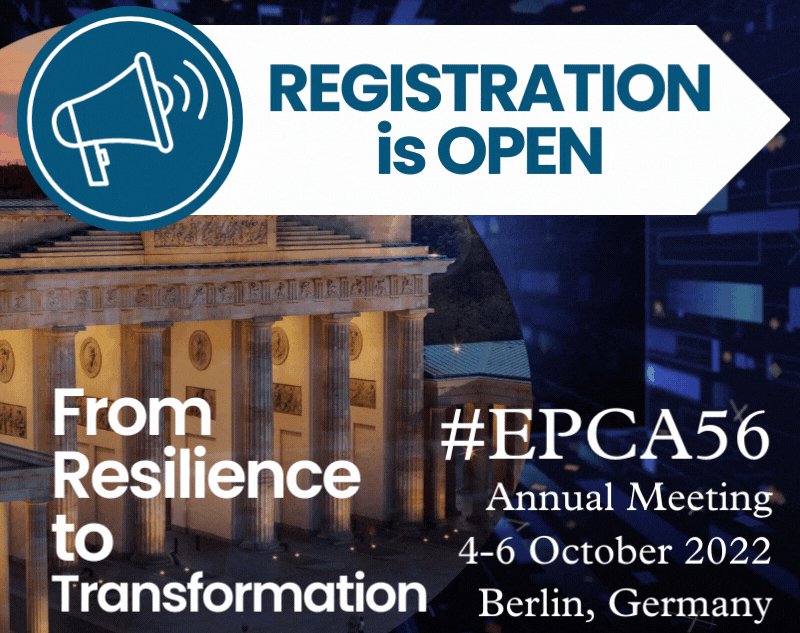 EPCA's 56th Annual Meeting latest news! Registration open, speakers announced and many thanks to our wonderful sponsors!
Registration is open!
After two successful virtual editions, EPCA is very pleased to welcome you back in person in Berlin. Join us from 3 to 6 October for our members' 56th Annual Meeting! Don't miss out and secure your spot today by registering through MY EPCA. Alternatively follow this step-by-step guide: #EPCA56 | Annual Meeting - How to Register
The list of attendees will be made available to all registered participants on 1st July 2022 in the respective MY EPCA section.
Program
The EPCA Annual Meeting (#EPCA56) is the perfect place to discuss, learn and share ideas with other #petrochem professionals and some representatives of our ecosystem. We will discuss on the subjects of #sustainability #energytransition #supplychain #diversity #inclusion Future of Work and #governance over the course of three days.
In his intro piece our president Hartwig Michels elaborates on the theme selection for this year's Annual Meeting. Read more...
#EPCA56 will provide a great opportunity to connect with your network and scope out the hottest industry trends to shape the future of our industry! Confirmed speakers include:
- Hartwig Michels, President Petrochemicals at BASF
- Augusto Lopez Claros, Executive Director at the Global Governance Forum
- Nicole Brausch, Executives and Talent Development at Evonik
- Per Klevnäs, Partner at Material Economics
- Luisa Boaretto, Head of EMEAI Inclusion and Diversity at DOW
- Tim Stedman, CEO at Agilyx
and many more
Further information on the program is available on #EPCA56 website.
Sponsorship Opportunities
What better way to have all eyes on your company, after a 2 year in person break, than by sponsoring the Annual Meeting? To view and confirm your company's sponsorship, please download the sponsorship package and share with Jamie which options suit you best sales@epca.eu.
The sooner you confirm your sponsorship, the sooner your company and logo benefit from the perks of sponsorship. Sponsorship options are selling fast and allocated on a first-come, first served basis.
Your EPCA contact: Jamie Nuttall
MANY THANKS to our CONFIRMED SPONSORS