#EPCA57 | Collaboration for Impact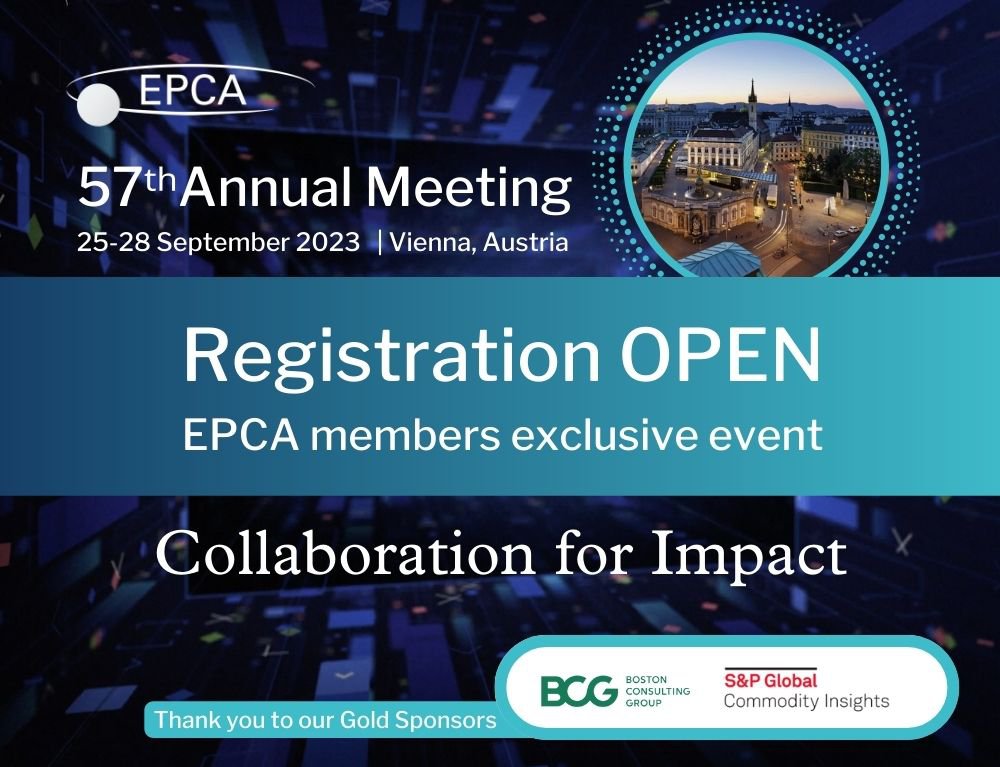 EPCA's 57th Annual Meeting theme - Collaboration for Impact | #EPCA57 latest news
Annual Meeting
The 57th Annual Meeting theme is "Collaboration for Impact" with a particular emphasis on energy security, affordability, and sustainability. Keynote speeches will cover topics such as the environmental and social role of the (petro)chemical industry and sustainable businesses both present and future. Additionally, there will be discussions regarding how collaborative initiatives within the industry can enable high policy ambition to be effectively implemented. Visit our Program at a Glance
Attendees at the event will have the chance to engage in learning, networking, and sharing their best practices for managing responsible businesses and sustainable supply chains.
📍 Hurry!𝐎𝐯𝐞𝐫 50% 𝐨𝐟 𝐭𝐡𝐞 𝐭𝐢𝐜𝐤𝐞𝐭𝐬 𝐡𝐚𝐯𝐞 𝐚𝐥𝐫𝐞𝐚𝐝𝐲 𝐛𝐞𝐞𝐧 𝐬𝐨𝐥𝐝, and registration will automatically close once we reach 3000 tickets. Act fast to ensure your participation in this unparalleled gathering. REGISTER NOW
Any questions? Please have a look at FAQ - INFO
Meeting Rooms
We have still a few left, book those HERE.
Need a combined option of bedroom and meeting opportunity?
Have a look a the full suites available at the Palais Coburg, for further information click HERE.
Sponsorship Opportunities
Does your company need a little sparkle to bring it back, front and center, so it's on the tip of everyone's tongue? Do you want to increase people's awareness of your brand, draw much deserved attention to your company's mission or, do you simply want the fame and glory of being recognized as an official EPCA sponsor?
DEADLINE 4th July 2023 - Book one of the remaining opportunities HERE.
The sooner you confirm your sponsorship, the sooner your company and logo will benefit from the communication tools we will use to promote the Annual Meeting. Sponsorship options are either limited or unique, once they're gone, they're gone.
THANK YOU TO OUR CONFIRMED SPONSORS
(status 15-June-2023)
GOLD
| | | |
| --- | --- | --- |
| |       | tba  |
SILVER
BRONZE
Networking, Food & Beverage
Media Partner
Other Supporters
    Flight Offers

 
       
  Meeting
Destination
  Vienna